Needs to add more sports
Doesn't support crypto
Needs to add more sports
Doesn't support crypto
What You Need to Know About Mozzartbet?
Mozzartbet is a mature betting brand that has been around for more than 15 years. Despite being well known in some parts of the world, they had no presence in African countries until 2022. Now Mozzartbet has a valid Oyo State Gaming Board license and is happy to welcome Nigerian sports fans. It is important to mention that they are not only a betting site, they also have land-based betting shops.
Even though Mozzartbet has just started their journey as a Nigerian betting brand, they are definitely on the right path. Their promotional and bonus offers are quite often better than what most other local bookmakers have. They also support all local payment systems, so pretty much any Nigerian bank can be used, which is not always the case even for original Nigerian brands.
First, we would like to cover the registration process, as this is the main thing every new user has to complete. Creating a new account at Mozzartbet is easy, the process is similar to most other sportsbooks.
You have two ways to register: using your phone number or your email address. Whichever way you choose, the flow would be similar. You will need to fill out and submit a registration form, receive a confirmation email (or a text message) with a code or a link and then use that link or code to finalize your registration.
That's it, you are good to go. There is nothing else you need to verify or confirm at this stage. However, in order to keep your account safe – we recommend filling out your personal details whenever you have some spare time.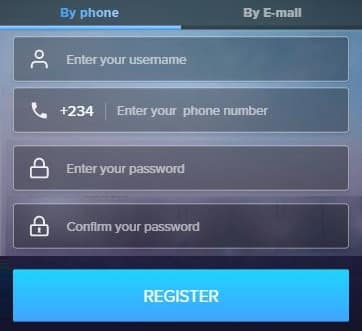 As we mentioned earlier, Mozzartbet supports all local banks – that is achieved thanks to their integrations with Paystack, Quickteller and Interswitch. If you are familiar with these payment systems, then you know that there should be absolutely no difficulties making payments and requesting withdrawals.
The minimum possible deposit is ₦100 and the minimum possible withdrawal is ₦1,000.
Supported Payment Methods
Paystack, Quickteller and Interswitch
Mozzartbet currently offer over 10 sports on their Nigerian website. Of course, this is by no means "a lot", however they will be adding more in the near future. Finally, it isn't always about quantity, you would probably prefer to have fewer events, but better quality content. That is exactly what Mozzartbet gives you – high quality betting content, a wide variety of pre-match and in-play betting markets and highly competitive odds. The minimum allowed stake for a single bet is ₦50.
Let's take a look at the pre-match betting section, for example football. There are always at least 500 football games open for betting. As you can imagine, this covers almost any league and tournament you can think of – starting with top-tier competitions all the way to smaller regional ones.
Having such a huge variety of games, let's see what an "average" game looks like. As examples, we are going to take upcoming world cup games. Every game will have at least 350 markets open for betting. This will usually include all sports of combination markets and special markets like "first team to score". Higher profile tournaments like the English Premier League will also have goal scorer, corner and card markets available.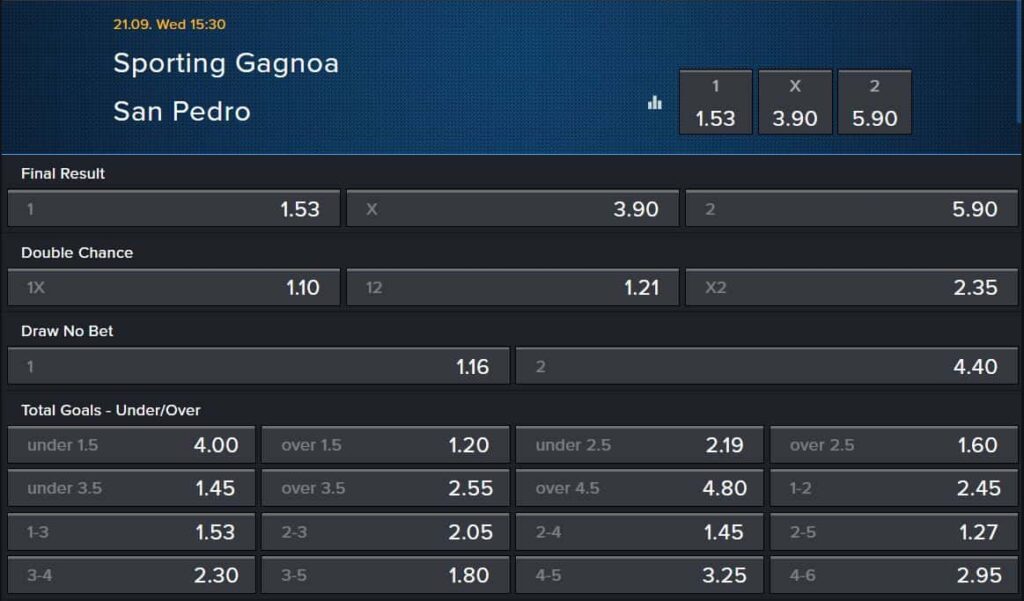 One cool feature Mozzartbet have on their pre-match betting section is BetBuilder. If you don't know what it is – BetBuilder is a feature that allows you to combine selections from the same game into an accumulator bet. By default, you are not allowed to have markets from the same game included in a multibet, as that makes the odds calculation too complicated. BetBuilder uses a more advanced odds calculation engine that gives you the opportunity to build custom accumulator bets using markets from the same game.
Now we are going to look at the in-play (also known as live) betting section. Mozzartbet can have between 20 and 40 live football games available throughout the day. The number of open markets, depending on the league or tournament, can drastically vary. Nevertheless, some games will have over 150 markets open consistently throughout the game. Betting is usually open until the very last minutes of every game.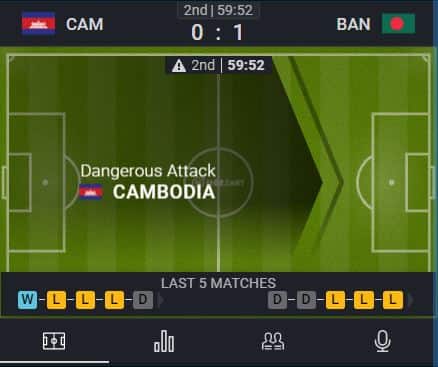 Football, Basketball, Tennis, Ice Hockey, Handball, Baseball, Snooker, MMA, Darts, Table Tennis, Esports, American Football
Mozartbet have an interesting approach to bonuses and other offers – you can already see that based on their welcome offers, they have two of them. Existing players also have quite a lot to look forward to, especially because Mozzartbet adds new offers on a regular basis.
As we said above, all new players from Nigeria get two welcome bonuses at Mozzartbet. Unlike almost every other betting site out there, who allow you to choose just one bonus – Mozzart allows you to claim both bonuses.
This is the first welcome offer you can activate as a new player and it applies to the first three desists you make. Just make sure to play through each individual bonus before trying to claim the next one.
All three deposit bonuses have identical wagering requirements and conditions, the only differences are their percentages and amounts. Each bonus has a minimum deposit requirement of ₦400 and a wagering requirement of 4x with the minimum odds of 1.40 per selection. Each welcome bonus has to be wagered with accumulator bets of 4 or more selections. Finally, each bonus is valid for 60 days.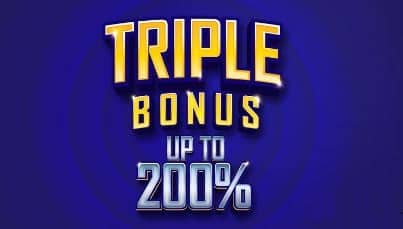 The first deposit bonus is 50% up to ₦50,000.
The second deposit bonus is 100% up to ₦100,000.
The third deposit bonus is 200% up to ₦150,000.
In addition to the three deposit bonuses, all new players from Nigeria can get free bets. Depending on how much you are ready to deposit, you can either get a ₦1,000 or ₦2,000 free bet.
The rules are simple – make a deposit, then place bets and stake the amount equal to your deposit with the odds of 3.50 or more and get a free bet.
In order to get a ₦1,000 free bet, you need to deposit and stake at least ₦500. If you want to get a ₦2,000 free bet, you will need to deposit and stake at least ₦1,000.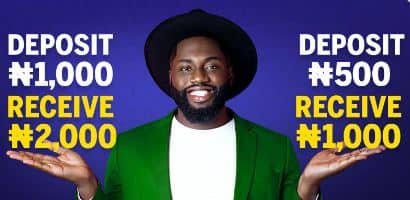 Other Promotions and Bonuses
There are currently two main offers available for existing active players, which are: a stake refund and an accumulator bonus. We will cover each one of them in more detail below. Mozzartbet tends to add new offers quite regularly, so we will keep an eye on what they have and will update our page as soon as new offers and bonuses become available.
One Game Cut Stake Refund
You can get a stake refund if your accumulator bet loses by one selection. It is a pretty standard offer, but Mozzartbet added their own "twist" to it – depending on the odds of your bet, your stake can get multiplied by up to x100. Your accumulator bet needs to have at least 4 selections to qualify for a refund.
If your odds are below 29.00 and your accumulator bet loses by one selection, you get your stake paid back in full.
If your odds are between 29.00 and 58.00 – your stake is multiplied by 2 and paid back to you.
If your odds are between 59.00 and 98.00 – your stake is multiplied by 5 and paid back to you.
If your odds are between 99.00 and 498.00 – your stake is multiplied by 10 and paid back to you.
If your odds are between 499.00 and 999.00 – your stake is multiplied by 20 and paid back to you.
You can increase your potential accumulator bet winnings by adding more selections to your betslip. Each selection must have the odds of at least 1.35 and the bonus starts with 2%, which is applied to your bet if you have 5 selections.
You can increase the bonus up to %225 by adding more selections to your bet. If you place your accumulator bet during "happy hours", which are between 9:00 AM to 11:00 AM and 9:00 PM to 11:00 PM, you can get a crazy 1000% boost.
Mozzartbet have an exceptionally well-optimized mobile website, but that did not stop them from developing their own Mozzartbet app. While most betting operators don't bother uploading their apps to Apple's App Store, Mozzartbet have done that – so even if you are an iPhone user, you can download and use the app. The Android application can be downloaded and installed directly from the website.
The mobile website interface and the betting app are pretty much identical, so anything you can do on the app – you can also do on the mobile website. We were quite pleasantly surprised by how informative the UI is – you can see how many games are offered within each sport and how many markets within each game without having to jump between pages. This may seem like a small thing, but it saves you a lot of time in the long run.
Finally, if you own an older device and are having issues using Mozzartbet – there is a "lite" version of their mobile website. Simply scroll down to the bottom of any page and press the blue "Go to Mobile Lite" button. You will be taken to a simplified version of their website, which should work well even with older phones.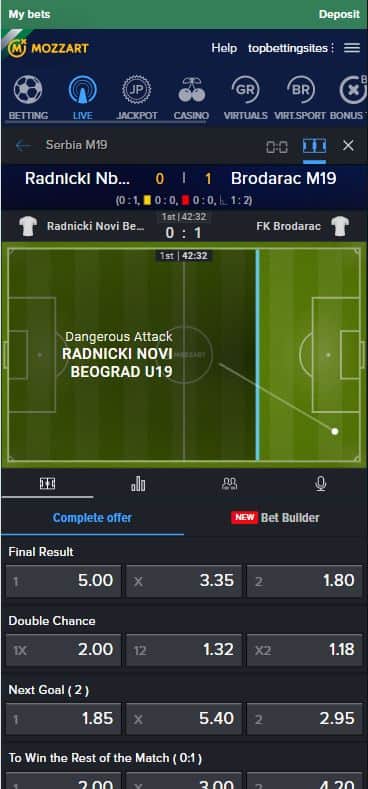 Frequently Asked Questions
Does Mozzartbet Have an Official License?
What is the Minimum Stake?
The minimum allowed bet you can make is ₦50.
Does Mozzartbet Support Nigerian Naira?
Yes, Mozzartbet is a proper Nigerian betting site and NGN is the main currency.
What is the Minimum Deposit?
The minimum amount you can deposit into your player account is ₦100.
What is the Minimum Withdrawal?
The minimum amount you can withdraw from your player account is ₦1,000.
Can You Claim the Free Bet and All Three Welcome Bonuses?
Yes, any new player from Nigeria can claim both, the free bet and welcome bonus.